I had some tough moments this weekend thinking of Parker, but I cling to the sweet memories. Speaking of memories, this one popped up this weekend from one year ago:
---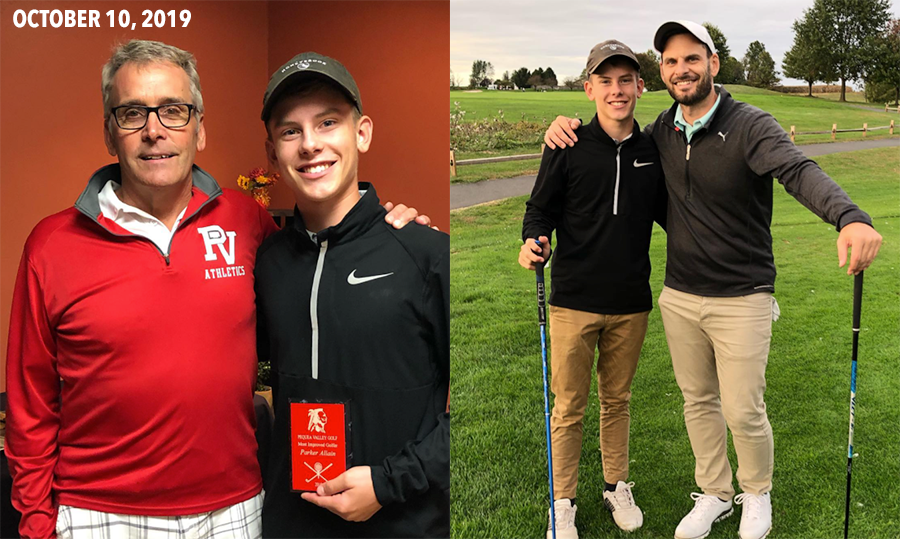 PV'S MOST IMPROVED GOLFER 2019!!!
Shout out to my son Parker, who may never look as strikingly handsome as I do, but is on his way to becoming a strong man of faith and character AND a better golfer than me.
I forced him to play golf last year as a Sophomore and he took to the game quickly, posting a 105.4 scoring average less than a year after starting to play.
This year as a Junior he took a whopping 17.6 strokes off his average, finishing at an 87.8 and helping his team qualify for League Finals.
Proud of the golf you played and the man you're becoming Parker! I look forward to trying to keep up with you for the next decade and beyond.
---
As I read those words I wrote about him just six weeks before his passing, it breaks my heart. It reminds me of the fun times we had together. It reminds me of the way he was so teachable, and how he soaked up golf instruction like a sponge. It reminds me of the time and energy I poured into being his dad. It reminds me of the hopes and dreams I had for him. And it reminds me of the hopes and dreams I had for myself as they related to a lifelong friendship with my son.
But as I read those words, I am also reminded of how true they were. Of how genuinely proud I was of the man he was becoming. I spoke these words to him and over him a lot, and would continue to do so to this day if a bad decision in a moment of weakness hadn't stolen life from his body.
I have some regrets in life. Of course I do. "Live life with no regrets" is a nice sentiment, but I've always thought it was kind of a foolish thing to say. I understand why people say it, but in my experience regrets are real, even if you pretend they aren't.
One of my regrets is that I wish I would have had one conversation with him about the true perils and risks of hard drugs; about the poison that they are, about the poisons they can be laced with, and about how the same substance that can give one person a daily fix can instantly take someone else's life.
I wasn't fully educated on these things and in my ignorance I did not think that conversation was necessary. In this way, I feel like I let Parker down. He knew better, yes, but I wish he knew more. I wish I had known more. I do not beat myself up over this, but it is a regret nonetheless.
I guess the point of sharing all this is twofold:
One, to remind you to never stop speaking hope and love and blessings to the people you love. Don't just think it, let them hear it. Speak the words to them. Do it mostly for them, but do it a little for yourself, as well. Because if you ever find yourself in a position where you are no longer able to speak the words to them, one of your regrets will be that you wish you still had the chance.
The other point of all this is to once again honor Parker so you don't forget that this was an exceptional kid in so many ways. His tragic death will always be a part of his story, but it will not be the only story.
He was an amazing son, brother, grandson, nephew, boyfriend, teammate, employee, and friend. He was kind, respectful, thoughtful, fun, intelligent, and caring. To know him was to love him. He was such a light, and he is so deeply missed.